Baptism Certificates
---
"Child of God" - Baptism Certificate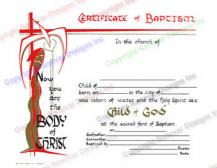 SKU: 701-Baptism
Set of 50
Price: $20.00
Availability: Usually leaves our store within 3-6 Days.
Click on image to enlarge
Description
"Child of God" - English Baptism Certificates. Set of 50. Beautiful hand-lettered calligraphy religious certificates printed on high quality 8 1/2" x 11" parchment paper. Printed with red and gold ink. Suitable for framing. Alive with color.
Text on Certificate
"Now You are the Body of Christ"
"In the church of __ Child of __ born on __ in the city of __ was reborn of water and the Holy Spirit as a Child of God at the sacred font of Baptism on __ Godfather __ Godmother __ Baptized by __ Pastor __ Date __
---
Related Products