Confirmation Certificates
---
"Holy Spirit" – Personalized Confirmation Certificate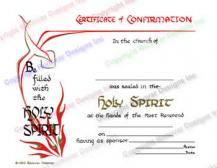 SKU: 102-P-Confirmation
Set of 50
Price: $25.00
Availability: Usually leaves our store within 3-6 Days.
Click on image to enlarge
Description
"Holy Spirit" - Personalized English Confirmation Certificates. Set of 50. Celebrate the christian rite conferring the gift of the Holy Spirit. Beautiful hand-lettered calligraphy religious certificates printed on high quality 8 1/2" x 11" parchment paper. Renovar Designs will print your church name, city (optional) and state (optional) on the certificate. Suitable for framing. Printed with red and gold ink.
Text on Certificate
"Be filled with the Holy Spirit"
In the church of __ __ was sealed in the Holy Spirit at the hands of the most Reverand __ on __ having as sponsor __ Pastor __ Date __
---
Related Products