Baptism Certificates
---
"Hijo de Dios" - Personalized Spanish Baptism Certificate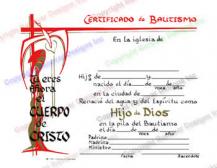 SKU: 401-P-SP-Baptism
Set of 50
Price: $25.00
Availability: Usually leaves our store within 3-6 Days.
Click on image to enlarge
Description
"Hijo de Dios" - Personalized Spanish Baptism Certificates. Set of 50. Beautiful hand-lettered calligraphy religious certificates printed on high quality 8 1/2" x 11" parchment paper. Renovar Designs will print your church name, city (optional) and state (optional) on the certificate. Printed with red and gold ink. Suitable for framing.
Text on Certificate
"Tu eres Ahora el Cuerpo de Cristo"
Certificado de Bautismo. En la iglesia de __ __ hijo/a de __ y __ nacido el día __ de mes __ de año __ en la ciudad de __ Renació del agua y del Espíritu como Hijo de Dios en la pila del Bautismo el día __ de mes __ de año __ Padrino __ Madrina __ Ministro __ Fecha __ Sacerdote __
---
Related Products