Mandate Minister Elect Certificates
---
Spanish Eucharistic Mandate Certificate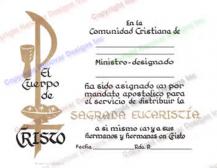 SKU: 505-SP-Eucharistic-Mandate
Set of 50
Price: $20.00
Availability: Usually leaves our store within 3-6 Days.
Click on image to enlarge
Description
Spanish Mandate Minister Elect Certificates. Set of 50. Make it official with our Spanish Mandate for Minister Elect religious certificates. A recognition of the honor bestowed upon Minister Elects. Beautiful hand-lettered calligraphy religious certificates printed on high quality 8 1/2" x 11" parchment paper. Printed with gold ink. Suitable for framing.
Text on Certificate
"El Cuerpo de Cristo"
En la Comunidad Cristiana de __ Ministro-designado __ ha sido asignado (a) mandato apostolico para el servicia de distribuir la Sagrada Eucaristía a si mismo (a) y a sus hermanos y hermanas en Cristo. Fecha __ Rdo.P. __
---
Related Products