Marriage Certificates
---
Spanish Marriage Certificate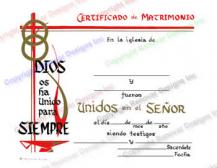 SKU: 803-SP-Marriage
Set of 50
Price: $20.00
Availability: Usually leaves our store within 3-6 Days.
Click on image to enlarge
Description
Spanish Marriage Certificates. Set of 50. These popular spanish marriage certificates celebrate the sacrament of marriage. Beautiful hand-lettered calligraphy religious certificates printed on high quality 8 1/2" x 11" parchment paper. Suitable for framing. Alive with color. Printed with red and gold ink.
Text on Certificate
"Dios os ha Unido para Siempre"
Certificado de Matrimonio. En la iglesia de __ __ y __ fueron Unidos en el Señor el día __ de mes __ de año siendo testigos __ y __ Sacerdote __Fecha __
---
Related Products